Profile Settings - Account
You may access your account settings via the ARKLauncher Dashboard whenever required. Here you can alter your account details, set your timezone, access your personal data or delete your account. The following will provide you with the necessary information regarding how to:
Access 'Profile' Settings
While viewing the ARKLauncher Dashboard, click on the profile icon located in the upper right corner of the page and select Settings from the dropdown menu.
Manage Your Account Settings
The Account Settings page allows you to customize your ARKLauncher profile according to your preferences. You will notice that the page is divided into four subsections, namely:
Contact Information
Timezone
General Data Protection Regulation (GDPR), and
Account Deletion
Contact Information - Here you may change your display name and email address. Upon making the necessary changes, click the Update button at the bottom right of this subsection to save them.
Timezone - Select an appropriate timezone according to your closest geographic location. Upon selecting a timezone, click the Update button at the bottom right of this subsection to save it.
General Data Protection (GDPR) - You may export your personal data in accordance with your right to data portability. Click the Export Personal Data button located at the bottom right of this subsection to send a .zip file to your email address.
Help
You may export your personal data once every 15 minutes. You will therefore need to observe this cooldown period before requesting your personal data again.
Delete Your Account
If you wish to delete your ARKLauncher account, click the Delete Account button at the bottom-right of the Account Deletion section. The Delete Account modal will appear prompting you to confirm the deletion of your account. If you understand what this entails, enter your name (or account name) in the field provided exactly as shown. When ready, click the Delete button to delete your account.
Help
You may provide feedback in the relevant field if you so wish. While this is optional, we would sincerely appreciate it if you could share the reason(s) why you decided to delete your account so that we may use your criticism to make improvements where possible.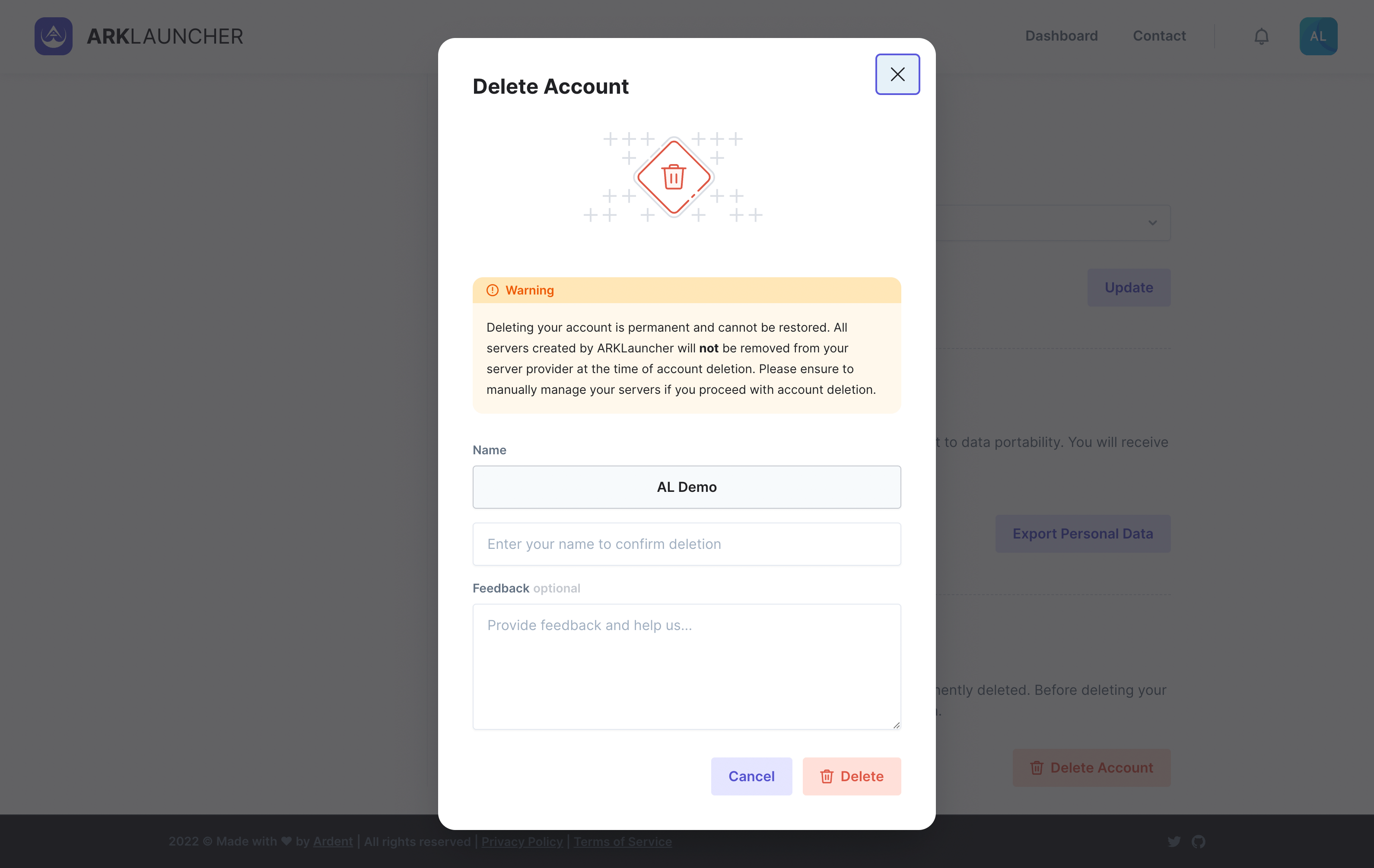 Success
Upon clicking the Delete button, your ARKLauncher account, as well as any blockhains, will cease to exist. However, you will need to manually manage your server(s) with your relevant server provider(s) as ARKLauncher does not remove or disable servers on your behalf.