Obtain Install Script From ARKLauncher
In order for other users and Delegates to join your network, you will need to provide them with the install script that is automatically generated when you successfully launch your blockchain. The following information provides you with details on how to:
Obtain the Script
To begin, you will need to log in to your ARKLauncher account by navigating to the Login Page and providing your credentials to access your profile.
While viewing the Dashboard, click the Edit button (pen icon) that appears in the upper right corner of the blockchain you wish to download an install script for.

The Blockchain Details page will appear. Click the Install Script button and select the network type for your download.
Help
Since you typically deploy a single network type per blockchain, clicking on the Install Script will only reveal that network type (namely mainnet, devnet or testnet). Note that in our example, we may only select the Devnet option.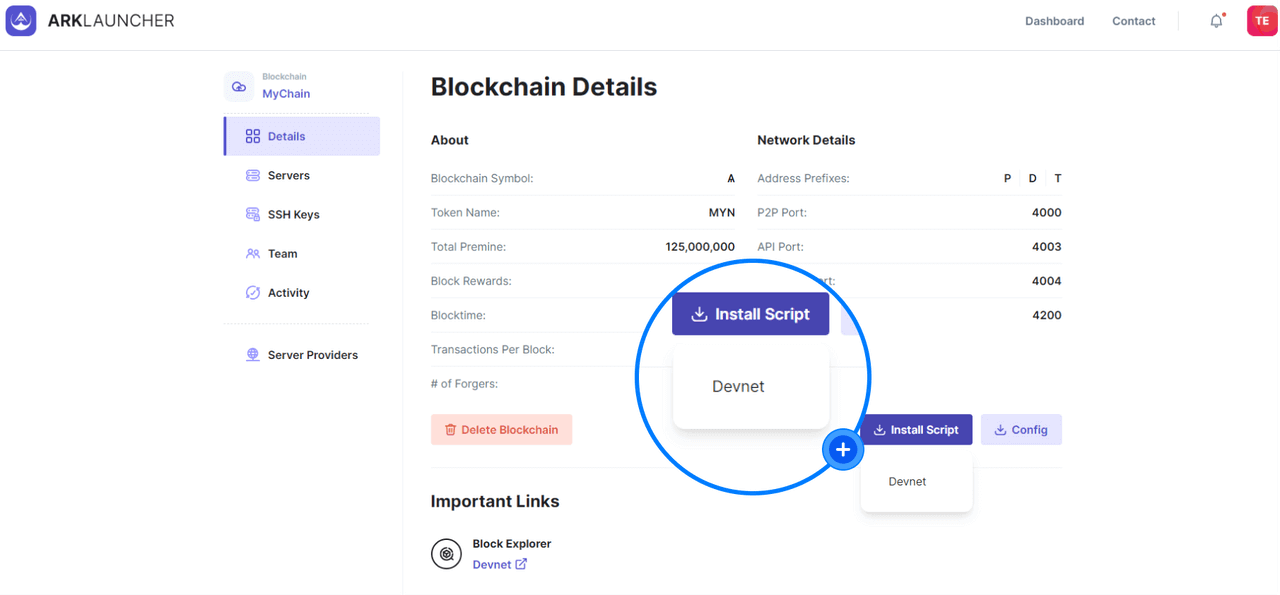 Information
The Install Script button will become active on the Blockchain Details page if at least one genesis server is provisioned - this takes place upon completion of the full installation. Note that the filename always follows the same naming structure, namely config-<blockchain name>-<network>.zip.
Share the Script
Before others may begin setting up nodes on your blockchain, you will need to share the downloaded install script with them. You may choose from several different options:
Upload the install script in .zip format to your GitHub account and share the URL to the file. For more information on this approach, please follow the guide located here .
Upload the .zip folder to your own server and share the link with any parties you wish to grant access to, or
Upload the script using the command line or by dragging and dropping it onto the Transfer.sh website.
Transfer.sh offers free hosting for smaller files and will retain uploads for up to 336 hours. If you decided to use their web interface once your upload is complete, you can copy the link from the Upload from Web section and share it accordingly.
Success
Having shared the install script with all relevant stakeholders, other Delegates may now begin joining your network.