Profile Settings - Password
You may access your security settings via the ARKLauncher Dashboard whenever required. Here you can change your account password and enable or disable two-factor authentication. The following will provide you with the necessary information regarding how to:
Access 'Security' Settings
While viewing the ARKLauncher Dashboard, click on the profile icon located in the upper right corner of the page and select Settings from the dropdown menu.
The Account Settings page will then appear. You will then need to click the Security tab in the menu located on the left-hand side of the page and wait for the Security page to load.
Manage Your Security Settings
The Security page allows you to configure your security preferences for your ARKLauncher account. You will notice that the page consists of two subsections, namely:
Password, and
Two-Factor Authentication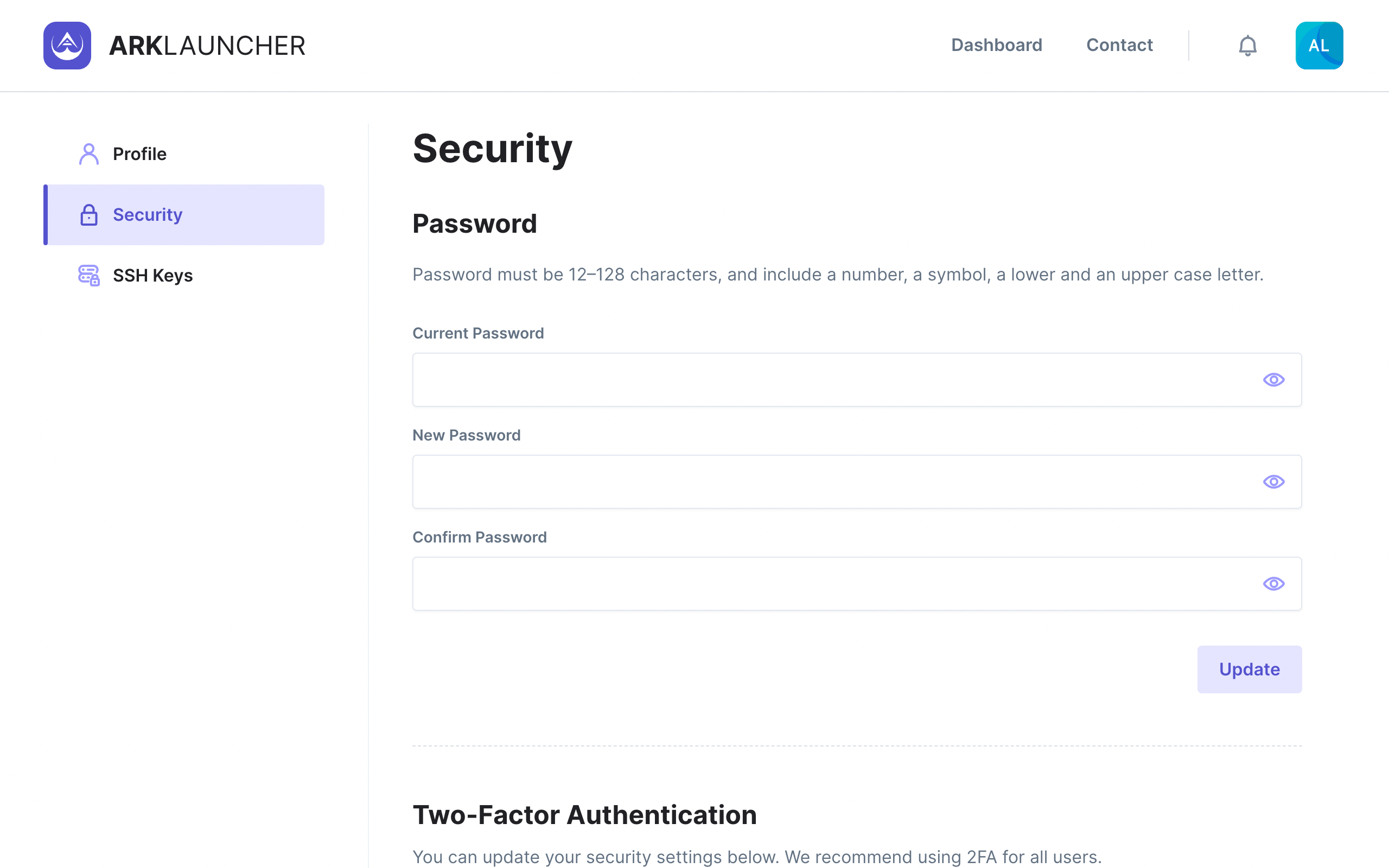 Change Your Password
In order to change your password, you will need to fill in the following fields:
Current Password - Enter your account's current password in this field.
New Password - Enter your new password in this field. Note that your password must consist of:
One lowercase character
One uppercase character
One number
One special character, and
No less than twelve (12) characters
Confirm Password - Confirm your new password by entering it once again into the provided field.
Upon entering in your current password as well as your new password and confirming it, click the Update button at the bottom right of this subsection to save it.
Success
You may now use your new password to log in to your ARKLauncher account.
Enable Two-Factor Authentication
Help
While not obligatory, enabling Two-Factor Authentication (2FA) provides your account with an additional layer of security to prevent unauthorized logins and/or data tampering.
In order to use 2FA, you will need to download either Authy or Google Authenticator onto your tablet or mobile device. Upon downloading either of these apps, you will then scan the QR Code located under the Two-Factor Authentication section and enter the required code into the field provided. Upon entering your code, click the Enable button at the bottom right of this subsection to save it.
Success
Having successfully enabled Two-Factor Authentication, you will require it each and every time you log in to your ARKLauncher account.